Crawl Space Waterproofing in Gaithersburg, MD
Trust Our Crawl Space Waterproofing Services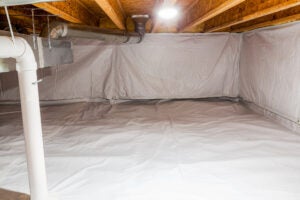 For years, Triad Waterproofing has provided capable and effective basement services, foundation repair, and crawl space waterproofing to Gaithersburg, MD customers. We know how to keep crawl spaces dry, helping to reinforce the area and keep your house upright. We are fully licensed, bonded, and insured to provide these repairs, separating us from the competition. If your crawl space regularly floods during heavy rains, we recommend immediate waterproofing. Doing so will enable you to get ahead of the problem and avoid more serious consequences. We offer proven solutions backed by years of experience and plenty of expertise. You can trust us to keep your property in great shape.
The Benefits of Our Crawl Space Waterproofing Services
Crawl spaces are far too important to neglect or ignore. We are skilled at identifying problems and suggesting the right course of action. In many cases, our crawl space waterproofing services are what you'll need to safeguard your home against damage. If you want to protect your foundation and home, invest in waterproofing today. The benefits include:
Cheaper Monthly Bills: If we encapsulate your crawl space, it will make your heating and cooling system much more efficient. We will add a heavy-duty moisture barrier on your crawl space's floor, seal foundation vents, and insulate vents.
Less Mold: Mold is unhealthy. But more importantly, it is exceptionally difficult to root out once it takes hold in the house. The longer you wait to address the problem, the worse it will get. Mold can originate from many places, but crawl spaces are common offenders.
Fewer Insects: Insects, mice, roaches, and other vermin love a dank, dark, and wet environment. A poorly-built and insulated crawl space is a haven for them. By investing in crawl space repair, you can get ahead of the problem.
Increased Home Value: If you are considering selling your home, you might want to have our team assess your crawl space. If we recommend changes or repairs, it's a good idea to make them. Crawl space waterproofing could make a big difference.
Improved Air Quality: Half the air you breathe comes from your crawl space. That's one of the most compelling reasons for investing in crawl space repair and sealing. Our services will directly impact your home's air quality.
Enhanced Comfort: If you choose encapsulation, it will act as an insulation barrier and prevent your floors from getting too cold. Common crawl space problems also cause discomfort, so repairing damage is wise.
Long-Lasting Floors: Moisture is the enemy of your floors – especially hardwood. No matter what flooring you have, addressing a crawl space issue is essential. Doing so will ensure you do not have to spend money on new flooring.
How Crawl Space Waterproofing Works
Our expertise means you can count on our team to provide excellent crawl space waterproofing services. We know how to apply our knowledge to the task and adjust to any unforeseen situations. You can expect the following when you hire our team:
Mitigate any moisture-related problems: Before we waterproof your crawl space, we must solve any problems moisture has caused. That means fixing inadequate drainage issues, remediating mold issues, and investigating whether your HVAC equipment is causing problems.
Seal the floor, vents, and walls: Next, we add a plastic vapor barrier to the floor and attach it to the walls, piers, and equipment. It will keep moisture out of the crawl space. Then we seal all vents and openings to the outside. Once finished with these steps, we add a thermal barrier to the walls.
Contact Triad Waterproofing Today to Get Started
Over the years, we have provided various services to our valued customers – including crawl space waterproofing. You can count on our team for anything basement-related. We can perform waterproofing, construct retaining walls, and perform basement mold remediation. We specialize in helping customers restore peace to their lives. Contact us today for more information.
Why Choose Us?
Over 27 Years of Experience
Family Owned and Operated
Licensed, Bonded & Insured
Waterproofing Experts
Lifetime Transferable Warranty