What is Crawlspace Encapsulation Service?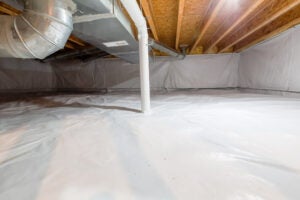 Your crawlspace is the area underneath your house that was probably built to negate the need for a concrete slab. The crawlspace creates an area that can be anywhere from two feet to standing height. That may sound like a basement, but there is a key difference between these two features: a crawlspace allows for outside ventilation. This means it is vulnerable to water, moisture, and even animals that enter from the outside, through the venting. Crawlspace encapsulation eliminates these vulnerabilities. It involves lining the floor, walls, and sometimes the ceiling of your crawlspace with barriers made out of polyethylene. This barrier helps keep moisture, water, and critters out of your crawlspace which minimizes major risks to your home. Here at Triad Basement Waterproofing, we have over three decades of experience in waterproofing homes and providing services like crawlspace encapsulation. If you want to safeguard your home, talk to us!
Who Needs Crawlspace Encapsulation Service?
 The answer to this question is very simple: anyone who has open-venting crawlspaces can benefit from crawlspace encapsulation. When your crawlspace is unprotected, it is prone to water damage every time it rains. Mold, mildew, and rot are just a few of the threats presented by water infiltrating your crawlspaces.
The Encapsulation Process 
Our crawlspace encapsulation company uses a meticulous process that starts with an on-site inspection and assessment of your crawlspace. Our technicians will then prep the area by performing necessary repairs, removing old insulation, and dealing with any pest problems. Then, insulation will be sprayed to seal up the tiny cracks and fissures that are hard to see. After this, the polyethylene barriers will be put into place. Once the barriers are in place, we use sealing tape and fasteners to attach the barriers to one another and lock them in.
Crawlspace Encapsulation Pros & Cons
We always want you to be well-informed so take a look at the following list of pros and cons related to crawlspace encapsulation.
Pros:
Prevents Moisture Damage: Even slight moisture can be enough to rot out joists and beams and compromise the structural integrity of your entire home.
Improves Air Quality: Mold and mildew can form if moisture and water damage are left unchecked in or around your home. Mold and mildew spores can find their way into your home and greatly detriment the quality of your indoor air.
Reduces Pest Presence: The crawlspace of your home is a magnet for rodents looking to make their own home. Encapsulation shores up the entry points that rodents and pests typically use to gain access to the crawlspace.
Cons:
HVAC Issues: Since less air will be flowing through the underside of your house, you may need to upgrade your HVAC system if you use a combustion-based furnace.
Price: Depending on the size of your crawlspace and the condition it's in, you may be looking at an upfront cost of $5,000 or more.
Services We Offer
 We are a lot more than just a crawlspace encapsulation contractor company. We offer many vital services in Gaithersburg, MD including:
To find out more about our services which are backed by lifetime transferable warranties, talk to one of our friendly team members today!
Protect Your Home
 Your crawlspace may be vulnerable, but you can protect it and your entire home with our encapsulation services. Our methods are meticulous, and we are a fully licensed, bonded, and insured company. Our goal is to give you the peace of mind that comes from knowing that your home is fully protected from water damage. Protect your most important investment with our help today!
Why Choose Us?
Over 27 Years of Experience
Family Owned and Operated
Licensed, Bonded & Insured
Waterproofing Experts
Lifetime Transferable Warranty