Basement Mold Removal & Remediation in Gaithersburg
Triad Waterproofing Provides Valuable Mold Remediation Services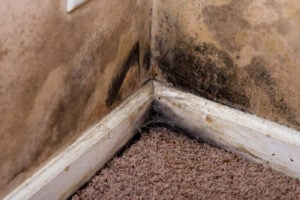 Mold can creep into the foundation of your home quicker than you may even realize it is there. Once it has taken hold, it is crucial for you to take action as soon as possible. By eliminating the problem at the source, you can prevent irreversible damage to your home's structural integrity. The Triad Waterproofing team is here to help. We have protected Gaithersburg homeowners from dangerous mold and water damage for nearly three decades. Our waterproofing experts remove all traces of mold and mildew and install effective drainage solutions to ensure it doesn't return. If you suspect there may be mold present in your home, you should give us a call as soon as possible for a free estimate.
What You Should Know About Mold in Your Home
If mold is present in your home, it is important to eliminate it at the source as soon as possible. Mold can grow undetected for long periods. Leaky roofs, cracks in basement walls, and high levels of humidity are just a few of the possible culprits of mold growth. It often hides deep within tiny cracks and crevices. Mold needs a source of moisture to colonize, and these dark spaces in your home provide the perfect environment for it to do so. If you have noticed any of the following warning signs throughout your home, you may be dealing with a mold-related issue:
Musty or rotten smell
Warped walls or ceilings
Discoloration in carpets, tiles, or hardwood floors
Flare-ups in asthma or allergy symptoms
Persistent coughing, runny eyes, headaches, or rashes
Why Are Mold Remediation Services Important?
Leaky roofs, cracks in basement walls, and high levels of humidity are just a few of the potential culprits of mold growth. Once mold has entered your home, it can spread quickly to weaken your home's foundation. If left unaddressed for an extended period of time, irreversible damage could reduce the overall property value of your home. Worse yet, exposure to mold has been linked to potentially serious illnesses. With our team on your side, you can rest assured that your home is a safe living environment for your loved ones.
Our Approach to Mold Remediation
Instead of trying to tackle mold issues on your own, you should trust our experienced specialists to handle the process from start to finish. We don't just remove any visible mold – we tackle the underlying issues to prevent it from returning in the future. Not even the smallest particle of mold will remain after we have completed the following steps:
Test: Our team starts off by performing a thorough visual mold assessment and testing the air quality throughout the house.
Contain: If mold is present, we isolate any contaminated areas and use negative air machines to prevent the spreading of mold spores.
Clean: Any contaminated materials such as carpet, furniture, or building materials are disposed of to prevent any future mold re-occurrence.
Mitigate: We are committed to addressing mold problems directly at the source. We use a variety of methods to eradicate any presence of mold, including HEPA vacuums, air scrubbers, detergents, and deep cleaning solutions. If additional drainage solutions are needed, our experts can help you determine the best path forward.
Inspect: We perform additional mold inspections post-remediation to ensure your home is safe for you and your loved ones.
Explore Our Comprehensive Basement Waterproofing Services
In addition to mold remediation, we provide a broad spectrum of basement waterproofing services. Our main goal is to protect you and your family from dangerous water damage. We provide free estimates for all our services, including the following:
Contact Us Today to Get Started
Hundreds of satisfied clients have trusted our state-of-the-art mold remediation services for decades. We have the experience needed to identify and eliminate any signs of mold at the source. You can trust our team to provide your family with a safe, moisture-free living environment. If you are concerned about mold in your home, give us a call today to learn more about mold remediation. We would be happy to provide a free estimate for our services and answer any questions you may have.
Why Choose Us?
Over 27 Years of Experience
Family Owned and Operated
Licensed, Bonded & Insured
Waterproofing Experts
Lifetime Transferable Warranty