Quality Basement Waterproofing for Gaithersburg, MD Homes
Triad Waterproofing Takes Care of Problematic Condensation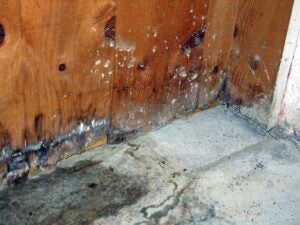 Combat condensation with Triad Waterproofing of Gaithersburg, MD's basement waterproofing services. Condensation results from warm air coming into contact with cool walls and creating moisture. It is the same process that occurs when you crack open cold cans during hot summer days. Condensation may seem harmless, but it can cause serious damage if left untreated in your basement. Luckily, Triad Waterproofing has easy and inexpensive solutions to resolve your condensation issues. Don't settle for anything less than a dry, healthy basement. Call the Triad Waterproofing team today!
The Dangers of a Wet Basement
When your basement is exposed to excess moisture of any kind, it can lead to trouble. From condensation to flooding, a wet basement will have rippling effects on the rest of your home. Condensation on the walls or floor of your basement may not seem alarming, but it is essential to take this sign of moisture seriously. It can be indicative of more significant issues to come. Your basement is the foundation of your home. The upper levels that you use to live and work sit on the walls of your basement. When the walls are compromised with moisture, the structural integrity of your entire house is put at risk. Don't wait until you can see walls cracking and buckling in the ground and upper floors of your home. Tackle condensation in your basement at the source. Triad's expert waterproofing services can help.
Condensation and Other Signs of Excess Moisture
When you picture unsafe water in a basement, you might first imagine puddles of standing water on the floor. While this would be a sign of a serious moisture problem, it is not the only, or even the most common, sign of a wet basement. Condensation on the walls or floor may be more difficult to notice, but they should heed the same warning about your basement's risk. Watch out for the following signs of excess moisture in your basement:
Condensation on the walls or floor
Stained, blistered, saturated, or damp walls
Walls with rings of dampness at base or water trickling out
Deteriorating wood or carpet
Rotting columns, joists, headers, and other structural supports
Standing water or puddles
Damp, humid air
The smell of mold or mildew
Waterproofing Helps Dispel Health Hazards
If you aren't too worried about the structure of your home, at least commit to drying your wet basement for the sake of your family's health. Excess moisture in the basement can affect the well-being of all you live in the house. Since air flows upward from the basement into the central living space, it sets the tone for the wellness of the entire stricture. When excess water makes its way into your basement, bacteria, mold, and mildew, make themselves at home as well. The dark, damp spaces of your basement are the perfect breeding grounds for harmful bacteria and mold. When mold spores or bacteria become airborne, they can travel to rooms in the upper levels and be inhaled by you, your family members, and your pets. When mold and bacteria particles are inhaled, they cause headaches, respiratory illnesses, infections, asthma, and even more devastating illnesses. Don't wait to fix your basement's moisture problem until it's too late.
Coping with Condensation
Luckily, condensation is one of the easiest basement moisture problems to fix. When you notice condensation on your basement walls or floor, it is a good idea to check the exhaust on your dryer and central air conditioner first. If either of these appliances are clogged or not flowing properly, they could be the source of your basement condensation. Both systems can release an unsafe amount of moisture in the air when running inefficiently. If neither of these seems to be the condensation culprit, our Triad Waterproofing team can help you consider the following options:
Basement Exhaust Fan: These are especially useful if you have a bathroom or kitchen in your basement. The steam created by cooking and hot showers can create moisture that may get trapped in your basement, causing condensation. Once installed, it is crucial to use the exhaust fan each time the shower or kitchen is used. The fan won't help unless it is on to dispel the moisture while it's still in the air.
Basement Insulation: Covering walls, pipes, ducts, and other places that accumulate condensation, with insulation can help mitigate the problem. When the walls and other surfaces are insulated, warm air is unable to come into contact with the cool surfaces. Thus, less condensation is formed.
Increase Air Circulation: If the condensation in your basement is not severe, increasing the air circulation could help reduce it. Increasing airflow will lessen the moisture in the air. If you have air conditioning, consider adding vents in the basement. If you don't have AC, running a fan for a few hours each day can help distribute moisture as well. Decluttering your basement will also help air move more freely in the space and decrease condensation.
Contact Triad Today!
If you are struggling with condensation and excess moisture in your basement, you've come to the right place. For more than 27 years, Triad Waterproofing has helped Maryland homeowners like you with condensation issues like the ones you're facing today. You can trust that our family-owned and -operated company and expert team will provide you with professional services that will grant you peace of mind. Contact us to receive your free estimate today!
Why Choose Us?
Over 27 Years of Experience
Family Owned and Operated
Licensed, Bonded & Insured
Waterproofing Experts
Lifetime Transferable Warranty