Our Structural Repair Service Can Help You in Gaithersburg, MD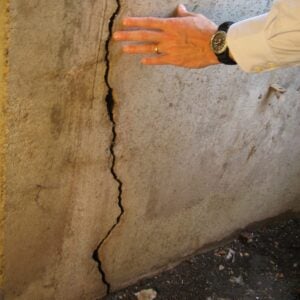 There may be nothing more important structurally than the foundation of a house. Supporting the full weight of the house and everything inside of it, it must be strong enough to withstand regular wear and tear and also environmental effects. The underpinning foundation of any property helps to ensure overall structural integrity and is essential to be in good working condition.
The experts at Triad Waterproofing have the skills and tools necessary to diagnose any issues with wall cracks and can provide information and services for foundation repair.
Foundation Crack Repair & More
Your home's foundation has to support the weight of your structure, which is why it is inevitable it will show signs of wear and tear over time. It is important to fix these problems fast because the longer they go unaddressed, the more expensive and time-consuming they may be to fix. If you have noticed signs of structural damage, you need to work with Montgomery County basement waterproofing professionals who can provide comprehensive repair services.
At Triad Waterproofing in Gaithersburg, we have the equipment, manpower, and expertise to resolve these issues quickly and completely. Let our team provide your foundation with the service it requires. This important piece of home improvement can drastically expand the lifespan of your home. Rely on Triad Waterproofing to get your foundation back in shape!
Signs of structural damage include the following:
Doors and windows no longer open and shut properly
Molding begins to pop off
Cracks appear in exterior wall brick or stone
The chimney begins to lean or shift
Not sure if your home is suffering from structural problems? We can take a look for free and provide you with a complimentary estimate of repair costs. Call us at (301) 532-7903.
Residential Foundation Issues
It's vital to hire professionals if you think there are issues with your foundation. Fortunately, the expert team at Triad Waterproofing has a wide range of experience dealing with foundation and structural support issues, and our team is ready to come diagnose your property today. Our free estimates offer our customers peace of mind because they are able to get the information they need to proceed. We know that major repairs to your house can be time consuming, expensive, and potentially stressful.
At Triad Waterproofing, we aim to make our streamlined process professional, and most importantly, we want to get the job done right. Whether we are doing epoxy foundation crack repair, or dealing with wall cracks, our team has the expertise to ensure your home is structurally strong. We've been in business for years because we aim to be close partners with our customers in getting their home strong.
Your home is one of the biggest investments you'll make, and you and your family's safety and wellbeing depend on a sturdy foundation and home. Don't let foundation repair go by the wayside – contact Triad Waterproofing today for more information about all of our structural foundation repair services.