Egress Window Installation in Gaithersburg, MD
The Best Egress Window Installers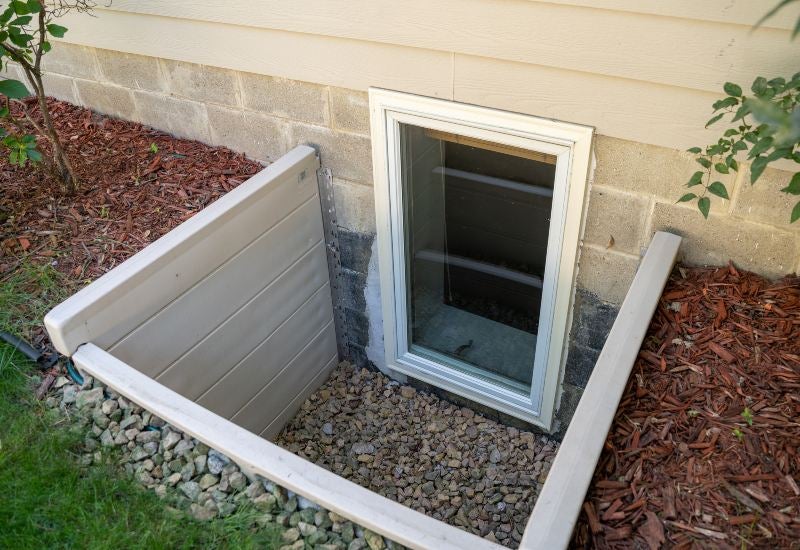 Discover the ultimate safety and style upgrade with egress window installation in Gaithersburg, MD. Transform your basement into a bright, secure living space while complying with safety regulations. Our Egress window installation services combine expertise, innovation, and a commitment to excellence. Safeguard your loved ones and add value to your property with our professional solutions. Contact us to schedule a consultation and take the first step toward a safer, brighter home.
What Are Egress Windows?
Egress windows are specialized windows designed to provide a safe and accessible exit route from a basement or lower-level living space in emergencies. These windows are typically larger than traditional basement windows, allowing occupants and first responders to enter or exit the space easily. Egress windows serve as a crucial safety feature, ensuring inhabitants can escape during events such as fires or other hazardous situations.
Egress Window Installation by Triad Waterproofing
Beginning with a thorough assessment of your space, we tailor our approach to your specific needs and the layout of your property. Our skilled professionals meticulously plan the window's placement to optimize safety and functionality while adhering to local building codes. With over 27 years of experience, we excel in executing every aspect of the installation process, from cutting through the foundation to crafting the window well and installing the egress window itself.
Basement Egress Window Installation Requirements
Basement egress window requirements are vital safety standards aimed at ensuring the safe exit of occupants in case of emergencies. These requirements typically include specifications for the size of the window opening, the height and width of the window well, and the ease of operation of the window itself. Egress windows must be easily accessible and capable of accommodating occupants and rescue personnel. These regulations vary by location and are often determined by local building codes.
Different Window Styles for Egress Windows
Whether you're aiming to complement your home's aesthetics or optimize functionality, our selection offers choices that combine safety and design. Explore the options below:
Slider Windows
Casement Windows
Double-Hung Windows
Awning Windows
Hopper Windows
Fixed Windows
Advantages of Installing Egress Windows
Discover the numerous benefits that egress windows can bring to your home. These windows are more than just safety features; they enhance your living space, add value, and offer peace of mind. Explore the advantages below:
Safety – Egress windows provide a designated escape route in emergencies, ensuring the well-being of your family and complying with safety regulations.
Natural Light – By introducing sunlight to your basement or lower-level space, egress windows transform formerly dark areas into inviting, habitable rooms.
Enhanced Ventilation – Proper airflow from egress windows reduces humidity, minimizes mold growth, and maintains a healthier indoor environment.
Regulatory Compliance – Egress windows ensure your home adheres to local building codes, preventing potential fines or complications during property transactions.
Choosing Basement Egress Windows
Choosing the right basement egress windows is a critical decision that balances safety, functionality, and aesthetics. Factors such as your home's layout, preferences, and local building codes play a role in this choice. Whether you prioritize natural light, ventilation, or a specific window style, our experts at Triad Basement Waterproofing can guide you through the selection process, ensuring that your egress windows meet all your requirements while enhancing the value and safety of your home.
Contact Triad Waterproofing for Immediate Assistance
Don't miss out on the chance to elevate your Gaithersburg, MD home with our top-tier Egress window installation services. Triad Basement Waterproofing is dedicated to delivering impeccable craftsmanship, ensuring your safety, and enhancing the appeal of your living spaces. Our team's experience and passion shine through every project we undertake, and we're excited to bring these benefits to your home. Embrace natural light, compliant safety, and a touch of elegance – all in one package. Contact us to schedule a consultation and embark on the journey to a safer, more beautiful home today.
Why Choose Us?
Over 27 Years of Experience
Family Owned and Operated
Licensed, Bonded & Insured
Waterproofing Experts
Lifetime Transferable Warranty