We believe that most homeowners who own properties with basements understand that basements need to be maintained and taken care of – especially those who have had to deal with leaky and wet basements.
It's good that people are becoming aware of the issues and risks associated with leaky basements, the problem now is they are not sure what to do about it.
Should you hire a professional or do it yourself?
Do you need exterior as well as interior waterproofing?
What exactly is a sump pump and what does it do?
Homeowners know that they need to take preventive measures to secure their basements and they need guidance in finding the best basement waterproofing services. There are different methods of basement waterproofing and other preventive measures to take advantage of. This does not mean that you need to invest in every service available for your home.
Every home and basement is unique and there are different solutions to every current or potential problem. Every basement waterproofing company is also different from one another and they adopt different ways of accomplishing their services. Each company will tell you that they are the best and their products work better than the rest.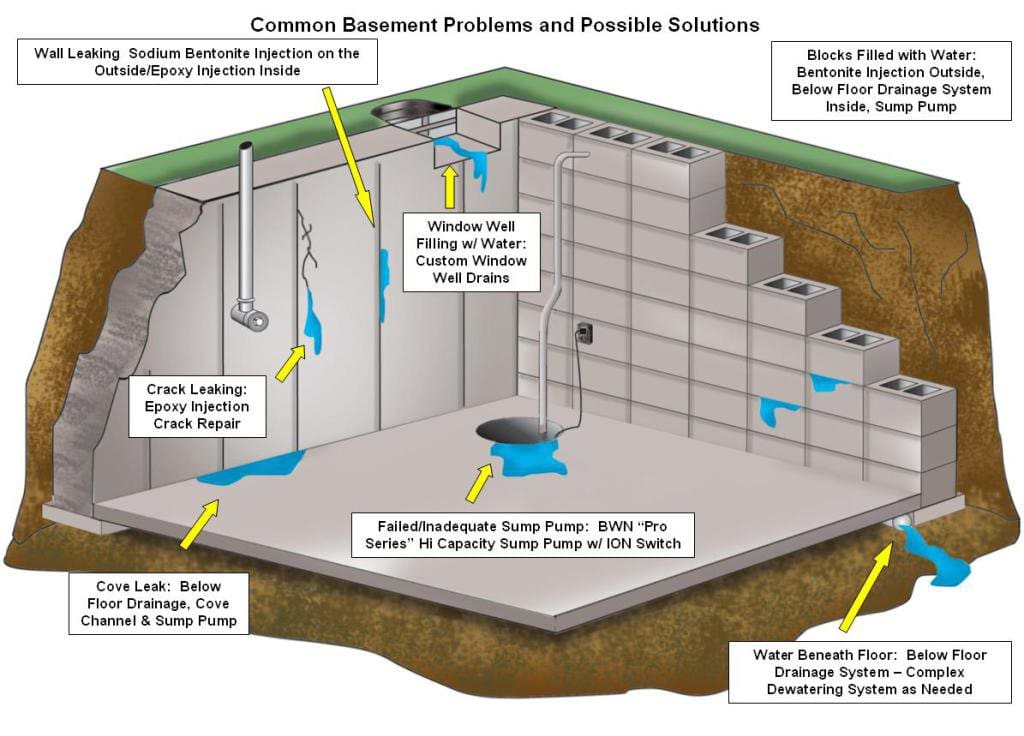 What to Look for in a Basement Waterproofing Company
Here is what you can do to find the best basement waterproofing services as well as the top basement waterproofing companies to work with.
Experience
Although newer companies can be just as efficient as a company that has been in business for more than 50 years, there's always a sense of peace knowing that the company you are working with has done the job a million times over without any issues. However, you want to be careful about workers who have waterproofed a basement so many times that they do it on autopilot. You don't want someone who is overly confident and careless.
Referrals & References
Ask your neighbors and friends about their basement waterproofing experiences. Ask for referrals and recommendations. It's easier to trust someone who has already dealt with basement waterproofing than trying to find someone on your own. This way, you can also blame your neighbor if the job doesn't go as well as they had described. In order to double check and make sure this doesn't happen, ask the company to provide a list of references and actually call the people on that list.
Online Research
There are many review websites you can check to help you find the best basement waterproofing services. Use Google, Yelp, Angie's List, Consumer Reviews or the Better Business Bureau. Anyone can post anything online nowadays so just be smart about your online research. If a company has a five star rating, but only one review then that means you need to do some extra research to confirm the positive review.
Look for a Company that Offers Multiple Services
There are multiple ways to solve basement issues since there are different causes for individual problems. Look for a full service company that offers a wide variety of services such as basement waterproofing, crack repair, sump pump installation, structural repair, drainage solutions and others. Stay away from those who offer a one-size-fits-all solution.
Connect with Industry Workers
Try contacting individuals who are familiar with the industry such as real estate agents, home inspectors and builders. If a basement waterproofing company has a good reputation these individuals will know about it. Good news travels fast, bad news travels even faster.
Make Sure Services Come with a Warranty
Warranties are put in place to protect you. Without a warranty a company can quickly smear some waterproof sealant in your basement that really won't protect much and call it a day. If there is no warranty, when your basement floods a month later you can't do anything about it except hand over more money to have it fixed. A warranty saves you if something goes wrong with a service you paid for so you don't have to invest more money on a bad job. Triad offers a transferable lifetime warranty on all services!
Work With Triad! We Really are the Best
Just kidding. Although our team has more than 27 years of experience, you should be just as diligent when researching and working with us as you would be if you were researching another company.
The best way to feel comfortable with a contractor is to be as certain as possible that the service you are seeking and paying for will be done efficiently and effectively.
If you have any questions about the services that Triad offers or if you would like to learn more about our company, our history and our track record please don't hesitate to contact us.
We would be more than happy to answer all of your questions and assuage your fears about leaky basements.