What is Concrete Resurfacing?
First impressions count. No matter how often we are told not to judge a book by its cover or to ignore physical details, as humans we are attracted to aesthetically pleasing surfaces and put off by dirty, worn out and damaged surfaces. As a homeowner you are aware of the importance of curb appeal, not only for real estate purposes, but also for the sake of keeping the home in good condition. Repairing broken concrete can cost a lot of money and it can be extremely time consuming. Luckily, if you are dealing with a mildly damaged or worn out driveway, patio or sidewalk you do not have to break up the old concrete and have it re-poured. This is where concrete resurfacing comes in to save the day. What is concrete resurfacing? Concrete resurfacing can give your outdoor and indoor surfaces a new finish without the hassle of a complete replacement. The process is easy and saves you a lot of money that you would waste if you were to pour new concrete over your old surfaces. Concrete resurfacing also offers multiple decorative finishes so you can customize the look of your floors and concrete surfaces.
How Does It Work?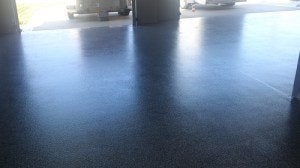 If you were to fix a damaged concrete slab traditionally, you would need to break up the old surface and get rid of all the material. This is tiring and very time consuming. New concrete is then poured in for the new surface. This is a very labor-intensive process and it can be very expensive, especially if it is covering a large area. The difference between the traditional process and concrete resurfacing is that resurfacing uses the existing concrete structure as the base. The concrete resurfacing material goes directly on top of the existing concrete area.
How Do You Prep The Area For Concrete Resurfacing?
The area that needs to be resurfaced should be clean with no loose concrete or other debris around it. Power washing the surface can be very helpful to remove loose and flaky concrete or any other fragments that are left behind. If you are planning on washing the surface with any soap or chemicals make sure that you thoroughly clean the surface. Soap or chemicals may negatively affect the way your concrete resurfacing material adheres. Extraneous material or dirt can also interfere with how the resurfacing material adheres to the surface. All cracks and blemishes on the surface should be covered with repair material to create a smooth canvas for the resurfacing material. The resurfacing material is then poured over the area and evenly spread to create a smooth and even finish. After the new concrete dries it will leave a smooth and beautiful new floor. Although your new driveway or garage floor will now be smooth, this may make them slippery if wet. What we can do to prevent that is to add non-slip coatings. The surface can also be enhanced with any desired decorative treatments.
What Is Concrete Resurfacing Made From?
Simply put, concrete resurfacing is a thin cement based overlay that is mixed with special bonding agents. It is poured over existing concrete and adheres to create a beautiful and smooth new surface. As your new surface dries it gets stronger and more durable. You definitely want to wait at least 24 hours before driving on it.
What Are The Benefits Of Concrete Resurfacing?
Apart from saving you money and revamping your old and worn out driveway or patio, there are many other benefits of concrete resurfacing. We went into detail about it in this blog post about the benefits of concrete resurfacing. In short, concrete resurfacing is easier than breaking apart old concrete and pouring it all over again, it saves time and money, it is resilient to future wear and tear, it allows for custom finishes and it gives you smooth and beautiful new surfaces in and around your home.
Does My Surface Qualify For Concrete Resurfacing?
Concrete resurfacing works best on areas with minor damage. If your floors have large holes or extreme damage to them you may want to look into repairing that first. Concrete resurfacing can't fix structural problems. If you pour concrete resurfacing over major cracks, eventually they will show up through your new surface and you will have to deal with them all over again.
Triad has been in business for more than 27 years and we are well versed in all things basement and cement. If you want to revamp the look of your driveway or patio, contact us for an estimate or for more information about concrete resurfacing. We will happily answer all your questions about any of our services and strategize a plan to keep your home warm, dry and beautiful through any season!