DIY Basement Waterproofing For Gaithersburg, MD
Do-it-yourself projects are all the rage these days thanks to the DIY Network, Pinterest and other similar influences. Tackling a DIY project can be fun, exciting, frustrating and in some cases it may cost you more to accomplish than it would to hire a professional company. The point of DIY is to save money, but if it isn't done right the first time around it can definitely be a bigger financial burden.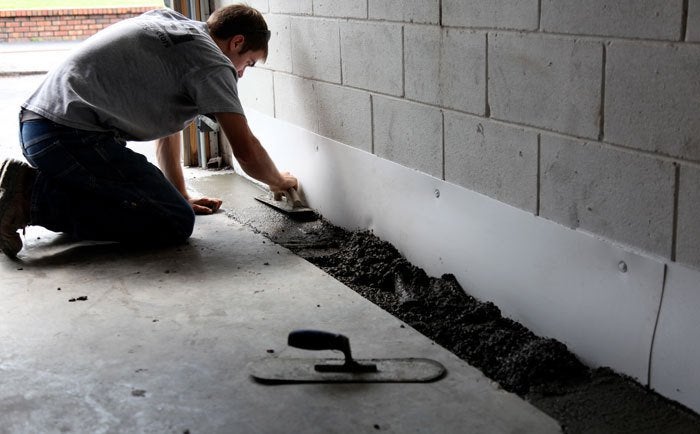 Hearing the words "wet" and "basement" in one sentence together strikes fear in the hearts of all homeowners who are lucky enough to have a basement. The basement is a wonderful space located beneath the home, sometimes even built underground. If taken care of, this extra room can be used for anything and everything. Have you always dreamed of running your own yoga studio? Why not set it up in your basement? Fantasizing about a home movie theater? The basement is the best place for this addition.
While the basement is a wonderful extra room to take advantage of it is very susceptible to moisture, leaks and flooding. This can be a very bad thing for a home movie theater. It's important to understand the risks associated with basement leaks and flooding, to learn the warning signs and to educate yourself on how to repair these issues. While there are certain problems that will require professional help, such as foundation and structural repairs, there are many DIY basement waterproofing methods that every homeowner can learn and employ in their basements.
Do-it-Yourself Basement Waterproofing Methods
Signs of a Problem
Before you decide to take on a DIY basement waterproofing project, take the time to inspect your home. Locate the weak spots in the foundation and other places where water is likely to force its way into your home. Water is most likely to come in through the walls, the floors and weak spots in the foundation or through windows. Look for warning signs of moisture such as:
Condensation on the walls or pipes
Musty smells or damp and humid air
Water trickling through the walls
Staining or blistering wall coverings
Deterioration of carpet or wood
Rust
Wall cracks
Mold
These are just a couple of warning signs to look out for before you begin tackling DIY basement waterproofing. It's a great idea to install preventive measures ahead of time so you don't have to deal with moisture issues at all.
DIY Crack Repair
Repairing cracks in concrete is a fairly simple DIY task. Taking care of these pesky cracks makes the concrete look better, it extends the life of the surface and it will prevent water from leaking into your basement. Here is a step-by-step guide on DIY crack repair:
Clean the floor – make sure there is no dirt or oil on the floor. If there is, use an efficient cleaner around the area. Fillers bond to the cement better if it is clean
Chisel the crack clean – use a chisel and hammer to get rid of any of the large pieces in the crack. This process also helps to make the inside of the crack bigger than it is at the surface, which in turn helps filler material bond stronger.
Brush, vacuum and clean – clean up the dust debris that was accumulated during the chiseling process.
Spread the concrete filler – slowly fill the crack. Check your work to see whether the filler has settled. If it looks loose you may have to add some more.
Allow it to cure – allow the patch to cure overnight and then check again if it requires any additional patching.
Seal the concrete – once the crack is patched, it's a good idea to seal it. Sealants prevent future wear and tear on the concrete such as stains and scuffs. A heavy-duty water based polyurethane sealer is always a good choice and you can easily smooth it on with a broom or a roller depending on how rough or smooth the floor is. Water based sealants generally dry very quickly so you can put on multiple coats of the product in one day.
Keep an eye out for future cracks and make sure to take care of them before they get bigger!
DIY Waterproofing
There are simple DIY tasks you can accomplish to help waterproof your basement and there are also complicated projects that you may need help with. Most homeowners who are looking to tackle waterproofing on their own will initially reach for waterproofing paint, which works for a couple of months but it will eventually begin to peel and it will leave your basement a mess. Not to mention that this paint is not very effective at keeping your basement dry.
There are three main methods of basement waterproofing including interior sealants, exterior waterproofing and interior and exterior drainage.
Interior sealants are similar to crack repairs. The most common point of entry for water is through cracks and once you seal these from the inside with a good quality filler then you will block the entryway for moisture and leaks. Although these crack repairs and fillers do prevent small leaks and humidity, they are not a permanent solution nor will they prevent leaks if the hydrostatic pressure (water pressure) is very strong against the foundation of your home.
You can also paint on waterproof coatings on the inside of your basement. These products adhere to concrete walls and can easily solve minor dampness and condensation issues.
Exterior waterproofing prevents water from coming into your basement or home. Although this method can be achieved by an experienced and determined DIY-er, it is highly recommended to seek professional assistance for this method. Exterior waterproofing requires full excavation around the home and to the bottom of the foundation. The walls are sealed with waterproof coatings, which in turn direct water into a drain system such as a French drain.
Installing rain gutters or down spouts are also a form of basement waterproofing. Although it may seem simple and it may be hard to believe, rain gutters are very efficient at keeping your home dry. If you continuously clean your gutters and keep them clear of any debris they will direct any water to the downspouts, which in turn should lead away from your home.
For homes that experience mild to severe basement leaking, a combination of interior and exterior waterproofing will be best. No two homes are the same and each situation is different, so it is important to evaluate your personal situation and pick the right solution for your problem. Interior and exterior waterproofing is a combination of waterproof sealers and drainage systems such as a sump pump.
DIY Sump Pump Installation
Installing a sump pump on your own will definitely save you a lot of money. First off you need to select the best sump pump for your needs – do you want a cast iron pump or a plastic one? You need to pick a pump that is perfect for your basement – not too large and not too small. Make sure it fits in the sump pit and that it won't continually turn on and off.
Look for a sump pump with an airtight and soundproof lid. An airtight lid will keep humidity and musty odors out of your basement and a soundproof lid will keep the pump quiet.
Installing a sump pump is not easy and it may take a couple of days to complete the installation. You will need to have the proper tools, strength and determination to get the job done. The hardest part of installing sump pumps is breaking through the floor, and if you don't have a jackhammer then this job may be even tougher than you think.
How to Fix a Wet Basement
So you followed all the steps, took preventive measures and yet you still ended up with a leaky or wet basement. No worries, the cleanup is a hassle, but it's not hard. If you live in an area that is prone to heavy rain and storms check your basement often so you can catch a problem before it gets really bad.
It's important to act quickly as soon as you notice water in your basement. Check for any live electricity and shut off power to that part of the house. Try to find out where the water is coming from – through a window, the floor, from a crack in the wall, etc.… Try to catch the water in a bucket before you start your cleanup.
Remove any damaged items and hang them to dry. Make sure to set them in a well-ventilated area so they don't catch mold. Once you've cleared space to work in remove the water from the basement. If there is a lot of standing water the best tool to work with will be a pool pump. If that's not an option use buckets. Once you've thrown out the majority of the water soak up the rest with a mop.
Once you've gotten rid of the water use fans for a couple of days to completely dry out the area. When your basement is dry spray it with disinfectant to keep it from developing any dangerous mold or mildew.
Some things to Consider Before Taking on a DIY Project
Before you decide to tackle a DIY basement project make sure to thoroughly research all of your options. Although there are certain projects that can be very pricy when working with a professional company, n ot all basement waterproofing is expensive. Most companies will also offer free consultations.
If you do decide to DIY be prepared with the right tools and equipment. Understand that basement waterproofing is not easy and that it will take a lot of stamina and strength to get the job done right. Also keep in mind that if you don't achieve optimal results the first time around, it will probably cost you more to fix now than it would have had you hired a professional ahead of time.
Triad Basement Waterproofing has been in business for more than 27 years and we are very familiar with all types of basement problems. If you have any questions regarding waterproofing or basement repair please connect with us so we can assist you.
We are also happy to consult on your project and give you a free estimate as well as 15% off your first work order. Contact us today so we can get started and protect your basement from any future moisture and flooding issues.